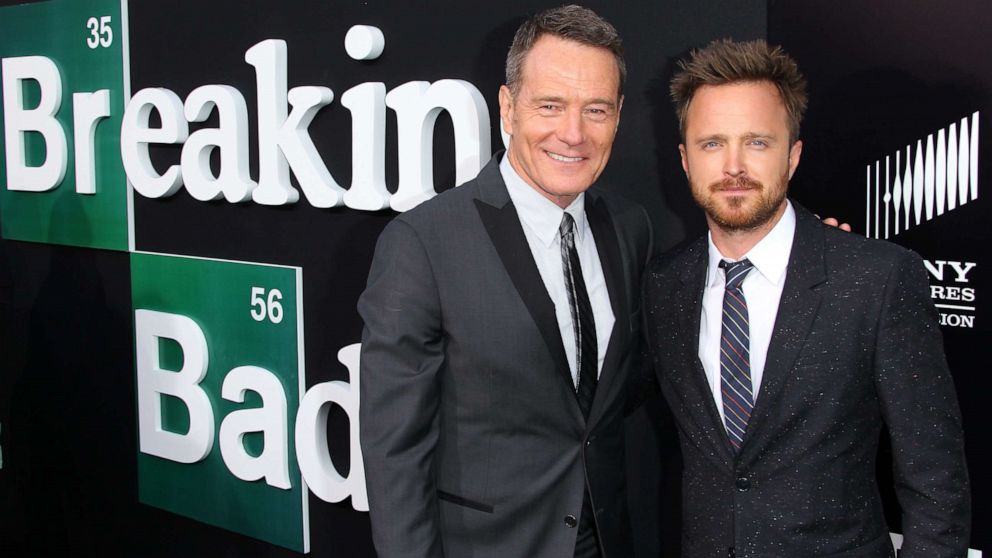 On January 10, 2008, Breaking Bad made its debut. Though it didn't premiere to over-the-top ratings, over the course of five seasons, it morphed into a television phenomenon—thanks in large part to word of mouth and the increasing popularity of binge-watching. At its most basic level, it's the story of a soft-spoken chemistry teacher who, after being diagnosed with lung cancer, risks everything he has worked for to make sure his family will be taken care of in the event of his death. But, like all great TV shows, the story is really not that simple. And it evolves over time, with each season somehow—and miraculously—managing to top the one before it.
Regularly cited as one of the greatest television series of all time (Rolling Stone ranked it number three on its list of the 100 best shows, right in between Mad Men and The Wire), here are 25 things you might not have known about Breaking Bad—which is about to get the big-screen treatment, courtesy of creator Vince Gilligan.
1. LOTS OF NETWORKS PASSED ON IT, INCLUDING HBO.
In 2016, it was announced that Vince Gilligan is working on a limited series about Jim Jones for HBO. But the "It's not TV" network wasn't always so hot on Gilligan. In a 2011 interview, Gilligan shared that he pitched Breaking Bad to HBO, and that it was "the worst meeting I've ever had."
"The trouble with Hollywood—movies and TV—is people will leave you dangling on the end of a meat hook for days or weeks or months on end," Gilligan said. "That happened at HBO. Like the worst meeting I ever had … The woman we [were] pitching to could not have been less interested—not even in my story, but about whether I actually lived or died."
HBO wasn't the only network that ultimately said no to Walter White: Showtime, TNT, and FX all passed on Breaking Bad, too, for various reasons.
2. THE NETWORK REALLY WANTED MATTHEW BRODERICK TO STAR.
It's impossible to imagine Breaking Bad with anyone other than Bryan Cranston in the lead role, but he wasn't as well known when the series kicked off, and AMC wanted a star. They were particularly interested in casting either Matthew Broderick or John Cusack in the lead.
"We all still had the image of Bryan shaving his body in Malcolm in the Middle," a former AMC executive told The Hollywood Reporter about their initial reluctance to cast Cranston. "We were like, 'Really? Isn't there anybody else?'" But Gilligan had worked with Cranston before, on an episode of The X-Files, and knew he had the chops to navigate the quirks of the part. The network brass watched the episode, and agreed.
"We needed somebody who could be dramatic and scary yet have an underlying humanity so when he dies, you felt sorry for him," Gilligan said. "Bryan nailed it."
3. THE DEA HELPED OUT, AND EVEN TAUGHT BRYAN CRANSTON AND AARON PAUL HOW TO COOK METH.
Because of the subject matter, the show's creators thought it was only right to inform the Drug Enforcement Administration (DEA) what they were making—and welcome their help. "We informed them—with all due respect and consideration—that we're doing this show, and 'Would you like to be a part of it in a consultancy in order to make sure that we get it right?'" Cranston told High Times. "They had the choice to say, 'We don't want anything to do with it.' But they saw that it might be in their best interest to make sure that we do it correctly. So DEA chemists came onboard as consultants and taught Aaron Paul and me how to make crystal meth."
4. THE SCIENCE IS SOUND, BUT NOT PERFECT. AND THAT WAS INTENTIONAL.
Dr. Donna Nelson, a chemistry professor at the University of Oklahoma, began serving as a science advisor on the show midway through the first season, and was tasked with making sure the show got its science right—or, at least as "right" as is safe.
"I don't think there's any popular show that gets it 100 percent right, but that's not the goal," Nelson told Mental Floss in 2013. "The goal is not to be a science education show; the goal is to be a popular show. And so there's always going to be some creative license taken, because they want to make the show interesting."
Of course—particularly with a show about drug-making—you don't want to give viewers a primer on how to start their own meth empires. "In the case of Walter White, his trademark is the blue meth," Nelson said. "In reality, it wouldn't be blue; it would be colorless. But this isn't a science education show. It's a fantasy. And Vince Gilligan did a fantastic job of getting most of the science right. And I am just thrilled with that. I think Vince Gilligan is a genius, and you can quote me on that!"
5. THAT ICONIC BLUE METH IS ROCK CANDY.
Whenever you see Walter and Jesse's signature blue meth, what you're actually seeing is blue rock candy. More specifically: blue rock candy from The Candy Lady, a boutique candy store in Albuquerque. (They have a whole line of Breaking Bad-inspired treats, which they sell under The Bad Candy Lady line.)
---
THIS ARTICLE ORIGINALLY APPEARED ON MENTAL FLOSS